On this site you will find a selection of Donna Montrezza's representational sculpture and drawings. A brief online tutorial illustrates a method of blocking the human figure that is based on fundamentals such as proportion, volume, angles and planes. The drawings are two pages from Donna's forthcoming reference work, "Measurement, Proportion and Blocking of the Head and Figure."
In Orange County, California, Donna teaches group and private sculpture and drawing classes, beginning through advanced. Group classes are eight weeks long and continue throughout the year. Class meets once a week for two four-week sessions to complete a figure sculpture. We develop a figure sculpture in eight weeks. Private, individual instruction is also available.
Coming soon for purchase are custom-made sculpture tools in a range of sizes. These handmade acrylic sculptor's tools do not absorb water or become dull like wood tools.
See the recommended Web sites page for other sites of interest to students, artists and art lovers.
For more information, please contact Donna with your questions and comments.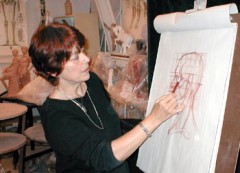 Donna studied painting and drawing for many years, with David Hardy in Oakland, Thomas Leighton in San Francisco and Theodore Lukits in Los Angeles. In the late '80s and early '90s she studied figure sculpture and mold-making with Robert Cunningham in Los Angeles. Since 1999 Donna has been teaching life sculpture at the Robert Cunningham Sculpture Studio in Culver City, California (recently renamed ArtSpace), a large private studio. Students, beginning through advanced, will find classes in sculpting from life, methods and materials (mold-making, stone-carving, assemblage and wood-working) and écorché, the study of bones and muscles.